"When you first start off trying to solve a problem, the first solutions you come up with are very complex, and most people stop there. But if you keep going, and live with the problem and peel more layers of the onion off, you can sometimes arrive at some very elegant and simple solutions." – Steve Jobs
Lucro was launched just over a year ago with a big idea and remarkable encouragement and engagement from many of healthcare's most influential organizations and thought leaders. Over the past several months, our team has been heads down on execution and delivery – having listened, learned, adapted, and focused our efforts to deliver a simple but compelling solution to enable innovation in healthcare.
In the "Why, What, How" of defining Lucro over the past year, our "why" has not changed. Lucro believes healthcare must innovate faster and can be advanced by reinventing the connection between healthcare organizations and the vendors that serve the industry.
The messaging of our "what" has evolved a bit, in realizing the core of what we have delivered is more clearly defined as a digital platform to help healthcare organizations make better purchasing decisions.
Our "how" has been refined with a simplified way to get started today:
1) Healthcare Organizations Define Initiatives
Prioritize and

privately post initiatives internally, and optionally externally, with or without identifying your organization

More efficient than fragmented market research, time consuming RFIs, etc…
Creates a growing inventory of active initiatives across the industry for which solutions are sought and decisions are made
2) Healthcare Organizations Control and Filter Unsolicited Sales Outreach
Healthcare executives are distracted by an unmanageable number of vendor emails and cold calls, so they generally ignore them all
Simply and automatically redirect that outreach into Lucro
Lucro creates enterprise visibility and alignment to identify relevant solutions while avoiding distraction of pitches that are not priorities or where decisions have already been made
3) Vendors Submit for Consideration to Relevant Initiatives
To be considered, vendors create and submit their "solution card" directly to a health system or to the initiative itself
Basic cards are free to all vendors, who may optionally upgrade to a premium card that allows for deeper understanding (ability to include marketing materials, customer testimonials, etc.)
Vendors expand virtual market reach for early consideration

where there is a decision process, enabling better use of sales and marketing resources
4) Healthcare Organizations Decide
Decision-makers can privately understand, organize, collaborate, compare, and act to advance an initiative

faster, with less risk

Leverage organizational scale and drive standardization by aligning experience and insight with a centralized activity history of evaluated solutions
Engage vendors to directly build a relationship at the appropriate time based on the foundational understanding discerned through Lucro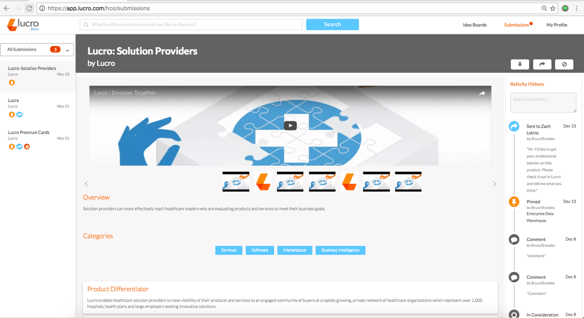 Innovation leaders are invited to join our expanded beta community of healthcare organizations by starting here. As a reminder, there is no cost for health systems to use Lucro and is also free for vendors to claim their basic solution card(s) to establish presence within the platform. Optionally, vendors can upgrade to premium cards to better differentiate their product(s).
Please share this information or let us know what you think below.
Here is to our creating a transformational 2017 together!
Bruce Brandes
Founder & CEO